Arizona Road Map
---
The scalable Arizona map on this page shows the state's major roads and highways as well as its counties and cities, including Phoenix, Arizona's capital city and most populous city.
Monument Valley Road, Arizona
Arizona Map Navigation
To display the map in full-screen mode, click or touch the full screen button. To zoom in on the Arizona state road map, click or touch the plus (+) button; to zoom out, click or touch the minus (-) button. To scroll or pan the zoomed-in map, either (1) use the scroll bars or (2) simply swipe or drag the map in any direction. (The scrolling or panning method you use will depend on your device and browser capabilities.) At any time, you can display the entire Arizona road map in a new window or print this page, including the visible portion of the map.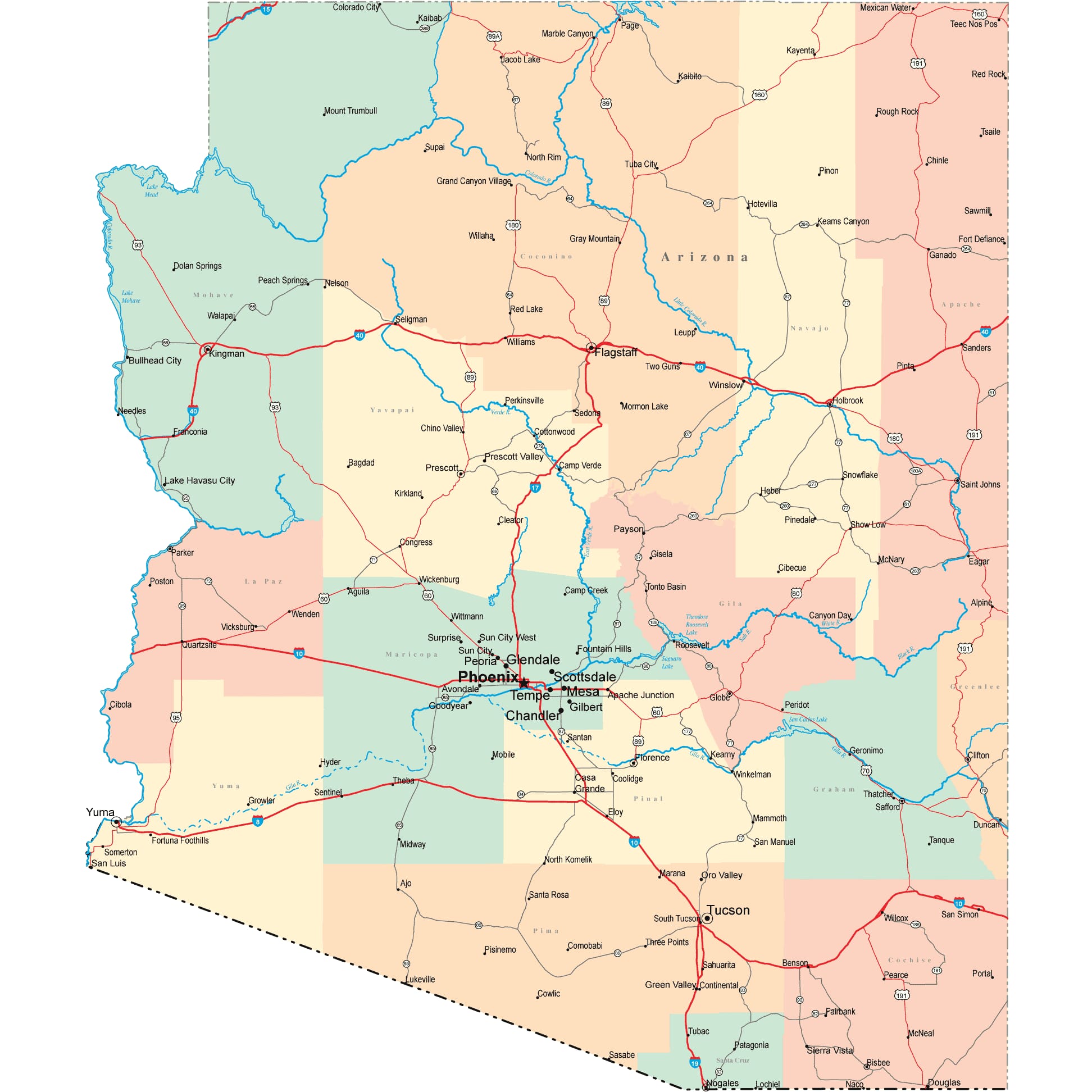 The following Map Legend and Scale of Miles apply to the road map on this page, at its largest displayed scale.
Arizona Map Legend
Arizona Map Scale Of Miles
Arizona Interstate Highways
Arizona's Interstate Highways connect its major cities and facilitate travel between Arizona and its neighbors.
From its eastern terminus near Casa Grande, I-8 travelers can drive westward into southern California.
I-10 traverses southern Arizona, connecting the cities of Phoenix and Tucson while linking California to the west with New Mexico to the east.
I-15 traverses northwestern Arizona for a short distance between eastern Nevada and southwestern Utah.
Central Arizona's I-17 connects the cities of Phoenix and Flagstaff.
From Arizona's southern border with Mexico, I-19 travelers can drive northward, connecting with I-10 near Tucson.
In north-central Arizona, I-40 traverses the state from New Mexico in the east to California in the west, passing through Flagstaff along the way.
Arizona Scenic Routes
Arizona features number of scenic drives including the Grand Canyon Loop which begins and ends at Flagstaff and runs around the canyon's outer rim. A short trip from Flagstaff is the town of Sedona which affords stunning vistas of the Red Rock Country and a number of state parks where you can view the intriguing red formations up close. A short distance from Mesa lies the Apache Trail, a former Native American path that passes through Tonto National Forest and is home to some fascinating cliff dwellings. More information about scenic roads in Arizona is available on this Arizona Highways web page.
Arizona Road Travel Resources
For more information about Arizona's roads and transportation infrastructure, visit the Arizona Department of Transportation website. For Arizona road traffic conditions, visit the Federal Highway Administration's Arizona Traffic Information page.
---
Copyright © 2005-2023 State-Maps.org. All rights reserved.
Arizona-Map.org is a State Maps reference source.

Arizona Road Map
Arizona Travel Map - AZ Highway Map